"The Galliard Trio performed in both my brother's wedding in 2008 and my sister's wedding last year and each time we have had nothing but phenomenal music!"

"They were dressed professionally, on time, and performed beautifully. We would choose them again in a heartbeat."

"Their rates are very reasonable. They answered all questions and made the process very easy. They arrived on time, were prepared, very professional - and the music was gorgeous!!"

"I would highly recommend this trio for a ceremony, reception or any event! Great sound and they added such a great touch to our wedding ceremony!!"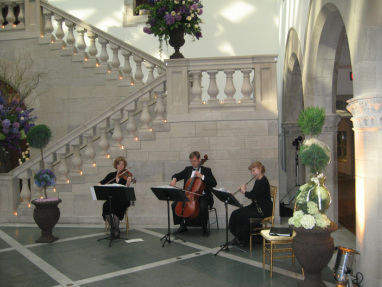 Elegant music for ceremonies and receptions
in Hampton Roads, VirginiaThe musicians of the Galliard Trio have been performing music for wedding ceremonies and receptions in the Virginia Beach, Norfolk, Chesapeake, Williamsburg, Newport News, Hampton, and Portsmouth areas since 1990. The group's repertoire consists of classical, popular, and religious selections. The members are professionals who are current members or recent performers in the Virginia Symphony. If you would like to book the Galliard Trio for a wedding ceremony or reception, you may use our contact form or email address: galliardtrio3@gmail.com. Or give us a phone call at 757-410-2269! If you leave a message, please give us the date, place and time of your event.
---
Venues we've played

Chrysler Museum
Founders Inn
Norfolk Botanical Garden
Hermitage Museum
Town Point Club
Virginia Beach Resort Hotel
Signature at West Neck
Contemporary Arts Center
Norfolk Marriott Hotel
Oceanfront Hilton
Norfolk Pagoda
Virginia Beach Cavalier Hotel
Cavalier Golf and Yacht Club
Norfolk Yacht Club
Oceanfront Sheraton
Half Moone Cruise and Celebration Center


This is the Galliard Trio performing liveat the H
alf Moone Cruise and Celebration Center